Due to my impromptu "nap" yesterday, I was late getting to everything else and didn't make it to AREA 51 until 11:00. It was then that I bothered to check my phone for messages and realized that my sweet Nicole had called at 3:00 pm, inviting me to go out. It was a little late to be calling her so I'll call her today and apologize (while I'm kicking myself in the ass for taking that nap).
Lakes Cafe was winding down by the time I arrived there and so I stayed long enough to down one Johnny Walker Black and I left. Since I had taken the time to dress for the evening, I took a run over to The Billiard Club. I ran into a few pals and ended up shooting a couple of games of pool. I got home around 3:00 this morning and hit the sack. I did manage to remember that I have a cell phone with a camera, so I took a picture of The Billiard Club for your dining and dancing pleasure (What? You heard me!).
The Story Of AREA 51: My pal, Rose, asked me the other day how my AREA 51 came to be and I realized that not all of you may know the story. I was going to give you a brief history of how it came to be, but after thinking about it, I decided that it would take an entire entry to explain it. So, I am working on a single entry of the story to be posted at a later date. I'll keep you abreast (no pun intended) as things progress.
A Russian spa resort in the town of Zheleznovodsk decided to pay tribute to one of it's most popular treatments -- the enema -- with an 800 pound bronze syringe bulb. I've never been to a "spa" before, but if I were to go, there are many "treatments" that I could conjure up in my twisted little mind and the word "enema" would definitely not be included in the description.
The Pictures: Browsing the headlines today I ran across these odd pictures, so I copied 'em. I try to explain them as you browse through them.
This Date In History: 1483; In a royal drama later told by Shakespeare, Richard, Duke of Gloucester, takes the crown of England as Richard III following the death of King Edward IV and the imprisonment of the young Edward V. 1870; In Atlantic City, New Jersey, the word's first oceanside boardwalk is completed. 1894; Railroad workers led by Eugene V. Debs begin a national strike in sympathy with employees at the Pullman railcar company. Later, troops sent by President Grover Cleveland put a violent end to the strike. 1925; The Gold Rush," Charlie Chaplin's epic comedy set in Alaska, opens. A critical and popular success, it is immediately acclaimed as a landmark in film history.
Birthdays: Pearl S, Buck, novelist (1892), Peter Lorre, actor (1904), BabeDidrikson Zaharius, Olympic track and fiels gold medalist and professional golfer (1913), Greg LeMond, Olympic cycling gold medalist (1961).
The Hits Just Keep On Coming:
A fleeing Taliban, desperate for water, was plodding through the Afghanistan desert when he saw something far off in the distance. Hoping to find water, he hurried toward the object only to find an old Jewish man at a small stand selling ties.
The Taliban asked, "Do you have any water?" The Jewish man replied, "I have no water. Would you like to buy a tie? It's only five dollars?" The Taliban shouted, "Infidel! I do not need an over-priced tie. I need water! I should kill you, but I must find water first!"
The Jewish man said, "Okay, it does not matter that you do not want to buy a tie and that you dislike me. I will show you that I am bigger than that. If you continue over that hill to the east about two miles you will find a lovely restaurant. It has all the ice cold water you need. Shalom."
Muttering, the Taliban staggered away over the hill. Several hours later, he staggered back, almost dead and said, "Here's five dollars. Your brother won't let me in without a tie."
The American Medical Association researchers have made a remarkable discovery. It seems that some patients needing blood transfusions may benefit from receiving chicken blood rather than human blood.
It tends to make the men cocky and the women lay better. Just thought you'd like to know.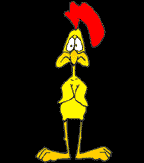 That's it for today my little chicken pluckers. More tomorrow.
Stay Tuned !