Today is Friday the 13th and I have mixed emotions about tonight's foray into AREA 51. I'm not really superstitious, but then again I always leave a sleeping dog lie. I'm relatively sure that this evening's journey will fare better than Wednesday although I can't fault The Hurricane for Wednesday night. I'm sure that most places were slow that evening, so, the question is, 'Do I feel lucky?'
The answer is that I never make plans until the last minute (unless there's a lady involved) because I like to keep my options open. I've found that, in the past, making arrangements to hang out or meet someone somewhere creates a sticky situation should something better arise. Too complicated and I don't like complications. I think I'll just leave my destination in the air until about an hour before game time and then decide. Who knows? Maybe I'll return to The Hurricane and check out Friday nights.
Tim Russert, long time host of ABC's Meet The Press, collapsed and died today of an apparent hear attack, Russert, 58, collapsed while working and efforts to revive him were unsuccessful. Russert was one of the few members of the media who I admired and respected. He will be missed.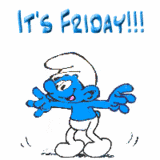 Fathers Day is this Sunday and I'd like to take this time to wish a Happy Father's Day to all the dads.
The CAT Award has no nominees as of yet. Keep in mind that nominations are open until Monday at noon so if you see or hear of some dufus that qualifies, feel free to nominate.
The Pictures: You like cereal? Maybe you do and maybe you don't. I have some new cereals that have been proposed for the outward bound. You know the type, they've just got to be different. Usually, they have a piece of metal embedded in their tongues and other various body parts. These cereals are designed for them.
This Date In History: 1911; Igor Stravinsky's ballet "Petruschka", performed by Sergey Diaghilev's Ballets Russe, debuts in Paris. 1966; In Miranda vs Arizona, the U.S. Supreme Court hold that police must inform criminal suspects of their legal rights before arresting and questioning them. 1967; President Lyndon Johnson nominates Solicitor General Thurgood Marshall to become the first black Supreme Court justice. 1971; The New York Times publishes the Pentagon Papers, an internal government report on the Vietnam War that had been leaked by Daniel Ellsburg, a former Defense Department official. 1983; U.S. space probe Pioneer 10 passes Neptune, becoming the first human-made object to leave the solar system.
Birthdays: William Butler Yeats, Irish poet, and Nobel laureate (1765), Red Grange, football halfback (1903), Cristo, artist (1935),
The Hits Just Keep On Coming: The
Bubba was fixing a door and he found that he needed a new hinge, so he sent Mary Louise to the hardware store. At the hardware store Mary Louise saw a beautiful teapot on a top shelf while she was waiting for Joe Bob to finish waiting on a customer. When Joe Bob was finished, Mary Louise asked how much for the teapot? Joe Bob replied "That's silver and it costs $100!"

"My goodness, that sure is a lotta money!" Mary Louise exclaimed. She then proceeded to describe the hinge that Bubba had sent her to buy, and Jo Bob went to the backroom to find a hinge. From the backroom Joe Bob yelled "Mary Louise, you wanna screw for that hinge?' To which Mary Louise replied, "No, but I will for the teapot."
A Roadway driver is driving east on Route 66 he sees a truck driving west and the CB crackles to life. "Hey Roadway driver, who are the two biggest homosexuals in America?" comes from the CB. The Roadway driver replies, "I don't know." The other trucker says " You and your brother." Well the Roadway driver gets annoyed but the other driver tells him "It's just a joke - tell it to the next truck you see."

Well the Roadway driver drives for about an hour and finally sees another truck. He gets on the CB and says "Hey other truck, do you know who the two biggest homosexuals in the world are?" The other trucker says, "I don't know, who?" The roadway driver replies "Me and my brother."
A guy is walking around in a supermarket yelling, "Cris-co, Cris-co?" A store clerk says to him, "Sir, the Crisco is in Aisle Five." He says, "I'm not looking for cooking Crisco, I'm calling my wife." The clerk says, "Your wife is named Crisco'?" He says, "No, I only call her that in public." The clerk says, "What do you call her when you're home?" He says, "Lard ass."
I've ran this cartoon before but it goes so well with the previous joke, I couldn't resist.
That's it for today my little church keys. Have a great and safe weekend and more on Monday
Stay Tuned !