It's my favorite day of the week and there's something that I want you to think about. It's................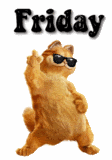 Please remember that Sunday is Veterans Day. The protection of America lies in the hands of the people. In times of need, men and women of this great nation are asked to defend it. They are not asked their political opinion, what they would like to do or where they would like to serve. They are simply called and the have always responded.
Currently, we are involved in a war in Iraq. The soldiers there and in all other bases that support the war effort do not make the law and do not make political decisions. It matters not what you personally think about the war, nor of the government that has decided that it is necessary.
It does matter that you recognize the fact that these soldiers, as well as past soldiers, do what they are told to do and when they are told to do it. They shoulder no responsibilty for the decision to go to war, only the weight that they carry daily following the orders and commands of their military leaders, who in turn answer to the leaders of this country. Sunday is a day to say thank you to all soldiers, past and present, who's tireless efforts since the birth of America, have allowed us to live in freedom.
Yes, my little rock and rollers, it's Friday and that means we're off to see the wizardresses..... (That's not a word ! It's a female wizard, right? I don't think so, Scotch Breath). Ok, I digress... I'm off to AREA51 at Lakes Cafe to see my pals. It's nice this afternoon (76 degrees) and I'm happy that I can break out some more jackets and turtleneck sweaters in anticipation of even cooler weather that's supposed to arrive this evening. The lovely Carmen is going to join me this evening and it should be a great night. I hope to see you all there !
The Pictures: While searching through my picture album (now nearing 2,000 shots), I paused to look at a picture of an African wolf and her pups and the end result (being OCB, as I am) is a plethora of cute critters for today's entry. There's a couple of cryptic hellos for some of my pals, especially the one in Cincinnati (hint: pictures 24 and 25).
This Date In History: 1918; German Kaiser Wilhelm is deposed. 1965; New York and much of the northeast coast of North America suffer the biggest power failure in history, leaving 30 million people in the dark. 1989; German citizens begin to demolish the Berlin Wall, which has separated East Gremany from West germany since 1961.
Birthdays: Spiro T. Agnew, 39th vice president of the United States (1918), Bob Gibson, baseball player (1935), Carl Sagan, astronomer who has looked at billions and billions of stars (1935).
The Hits Just Keep On Coming: Thanks to my pal, Anne !
A cannibal was walking through the jungle and came upon a restaurant operated by another cannibal. Feeling somewhat hungry, he sat down and looked over the menu.
It read: Tourist $5, Broiled missionary, $10.00, Fried explorer $15, Baked Democrat or grilled Republican $100. The cannibal called the waiter over and asked,"why such a price difference for the politicians?"
The waiter replied, "Have you ever tried to clean one? They're so full of shit that it takes all morning."
That's it for today my little rubber baby buggy bumpers. See you tonight at Lakes Cafe. Have a great weekend and more on Monday.
Stay Tuned !