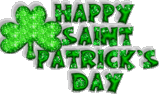 Faith and begorrah and a Happy Saint Patrick's Day to all. Today is a day when everyone is Irish and we have the O'Goldbergs, the O'Gonzalez's and the O'Sullivans wearing green today. It's also a day (albeit Monday) where all the aforementioned Irish have been known to have a glass of green beer or two. It is also possible that Johnny Walker Green, the Irish cousin of my constant companion and advisor, Johnny Walker Black, will aid and abet me in AREA 51 this evening, assuming I can resolve the outstanding issues with my ailing automobile.
There were two nominees for the much sought after Cat's Ass Trophy (CAT) Award and both nominees stood out in their respective fields of anal mentality, actions and thought. The judges (namely my cat, Shithead and myself) carefully pored over each nominee's acts of stupidity and ignorance which inspired my well educated readers to nominate them.
The first nominee, nominated by both Diane and Beth, is Eliot Spitzer, the now ex-governor of New York, whose amazingly poor lack of judgement and character was established when it was discovered that he had spent as much as $80,000 (presumably his own money) on high priced prostitutes. In spite of the pitiful fact that he had to resort to paying a woman to have relations with him and the fact that it obviously never occurred to him that he might be found out by the media, he paid as much as $1,000 per hour for the prostitute's services.
Spitzer, the former New York State attorney general, whose holier-than-thou attitude and relentless assaults on Wall Street and crime, especially prostitution, while attorney general, earned him the nickname of "The Sheriff of Wall Street". Nothing makes the public (and Wall Street) happier than to see a pompous asshole spout off and then fall back into his own excrement.
The second nominee, nominated by Julie, Jackie and Garnett, is Rev. Jeremiah Wright, the pastor and "mentor" to Barack Hussein Obama. Wright, in his sermons at the Trinity United Church of Christ, subscribes to something referred to as the Black Value System, a doctrine authored by Blacks, for Blacks. His publicly criticized racist remarks of late has inspired the church's web site to move the tenets of the Black Value System to somewhere other than the front page. It has also caused Obama to denounce and fire the venom spewing pastor from his position in the Obama Presidential campaign. Although somewhat difficult to find on the Internet, I was able to locate a partial definition in a January 15, 2008 editorial from the Investor's Business Daily:
"At the core of the Democratic front-runner's faith — whether lapsed Muslim, new Christian or some mixture of the two — is African nativism, which raises political issues of its own.
In 1991, when Obama joined the Trinity United Church of Christ in Chicago, he pledged allegiance to something called the Black Value System, which is a code of non-Biblical ethics written by blacks, for blacks.
It encourages blacks to group together and separate from the larger American society by pooling their money, patronizing black-only businesses and backing black leaders. Such racial separatism is strangely at odds with the media's portrayal of Obama as a uniter who reaches across races.
The code also warns blacks to avoid the white "entrapment of black middle-classness," suggesting that settling for that kind of "competitive" success will rob blacks of their African identity and keep them "captive"to white culture.
In short, Obama's "unashamedly black" church preaches the politics of black nationalism. And its dashiki-wearing preacher — who married Obama and his wife and now acts as his personal spiritual adviser — is militantly Afrocentric. "We are an African people," the Rev. Jeremiah Wright reminds his flock, "and remain true to our native land, the mother continent."
Painfully, racism seems to be alive and well in America and exists on both sides of the spectrum. Obviously and inconspicuously absent during these tirades are the thoughts of the constantly outraged "Podium Al" Sharpton. Therefore, this week's Cat's Ass Trophy goes to Reverend Jeremiah Wright, with a dishonorable mention to Eliot Spitzer. Congratulations to Jeremiah, who was and still is, a bullfrog....You 'da man !
The Pictures: You may want to think twice about eating at the restaurant in today's photographs, sent to me by brother Kirt. No, it's not the food..., the food is gourmet.It's not the cleanliness either, the restaurant is pristine. It's just the location that troubles me.... Well, judge for yourselves.
This Date In History: 1733; The Charitable Irish Society of Boston Massachusetts hosts the first non liturgical celebration of Saint Patrick's Day. 1762; The first Saint's Patrick's Day parade inaugurates a strong traditional celebration among Irish Americans. 1861; The kingdom of Italy is formally proclaimed. 1905; Anna Eleanor Roosevelt marries Franklin Delano Roosevelt. 1969; Golda Meir is sworn is as Israel's fourth prime minister.
Birthdays: James IV, king of Scotland (1473), Roger Brooke Taney, jurist and fifth chief justice of the United States (1777), Gotlieb Daimler, German engineer and inventor (1834), Bobby Jones, amateur golfer (1902), Nat "King" Cole, singer (1919).
The Hits Just Keep On Coming:
The Weekly Raffle
Bubba and Earl were in the local bar enjoying a beer when they decided to get in on the weekly charity raffle. They bought five tickets each at a dollar a pop.
The following week, when the raffle was drawn, each had won a prize. Earl won 1st prize, a year's supply of gourmet spaghetti sauce and extra-long spaghetti. Bubba won 6th prize, a toilet brush.
About a week or so had passed when the men met back in the neighborhood bar for a couple of beers. Bubba asked Earl how he liked his prize, to which Earl replied, "Great, I love spaghetti! How about you, how's that toilet brush?"
"Not so good," replied Bubba, "I reckon I'm gonna go back to paper."
Flynn staggered home very late one evening after drinking with his friend, Paddy. He tiptoed very quietly to the stairs to the bedroom, but misjudged the first step and fell, breaking two pints of Irish whiskey in his back pockets and cutting himself on the butt.
He managed not to to yell, dropped his pants and looked in the hall mirror to see the severity of his wounds. He found a box of Band-Aids and quietly tried to put a Band-Aid everywhere he saw blood. He then hid the Band-Aids and stumbled off to bed.The next morning, he awoke with both his head and his butt hurting and his wife, Mary, standing over him.
Mary said, "You were drunk again last night, weren't you?"
Flynn said, "Mary, why do you say such a thing?"
Mary replied, "Well it could be the open front door or the broken glass at the bottom of the stairs or the trail of blood leading to the bathroom, but mostly it's all those Band-Aids stuck on the hall mirror."
That's it for today my little shamrocks. More tomorrow.
Stay Tuned !