Today is leap day of leap year. I'm not real sure of how important that is at happy hour in AREA 51 at Lakes Cafe and Pub, but I intend to find out. It's karaoke night this evening and I haven't sang there in about three weeks so maybe I'll perform tonight. I'm not real sure but after a few cocktails I guessing that most of the people will be referring to today as Leaf Day.
Nevertheless, If it's Leap Day, count me in ! I'm not sure what one does on Leap day, but I know it only happens every four years. Taking that into consideration, I'm sure it will be an extra special night with extra special people. Maybe there'll be a total eclipse of the heart.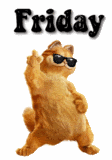 We have, as of today, two nominees for the Cat's Ass Trophy (CAT) award. Sherry has nominated parents who allow their children to stand in shopping carts in the supermarket. I subscribe to this thought especially when the child is seventeen or eighteen years old. Jackie has nominated the press (in general), for their ridiculous concept that John McCain would be ineligible to run for president because he was born in a U.S. military base in the Panama Canal Zone of military U.S. parents.
The CAT awards are open for nomination until Monday at noon. As always, anyone can make a nomination until that time.
The Pictures: With today being leap day of leap year, what else would you expect but leaping pictures? I don't, however have a picture (as of yet) of ten lords a leaping. I'm not even sure what that means and I suspect that I don't want to know. Author's Note: I did, in fact, find the ten lords a leaping. While there is a discrepancy as to how many lords were actually leaping and how many were reacting to a goose (six geese a laying), I was right in my first impression that this was an area where I would elect not to participate, but that's just me. I am sure, however, that the said "lords" would not fare well in AREA 51.
This Date In History: 1692; The Salem witch trials begin when Sarah Good, Sarah Osborne and Tituba are accused of using witchcraft. 1920; A constitution is adopted in Czechoslovakia, a new nation formed from the former provinces of Bohemia, Moravia and Slovakia after the breakup of the Austro-Hungarian empire. 1940; The motion picture "Gone With The Wind", one of the biggest production events in film history, wins eight Academy Awards. 1972; Hank Aaron signs for $200,000 a year, making him the highest paid professional baseball player to date.
Birthdays: Pope Paul III (1468), Gioacchini, Italian composer (1792), Jimmy Dorsey, bandleader (1904), Balthus, French painter (1908).
The Hits Just Keep On Coming: The
Thirty years makes a big difference in your life and things have changed a bit....
1978: Long hair 2008: Longing for hair
1978: Screw the system 2008: Restore the system
1978: Acid Rock 2008: Acid reflux
1978: Hoping for a BMW 2008: Hoping for a

BM
1978: Going to a hip, new joint 2008: Getting a new hip joint
1978: Rolling Stones 2008: Kidney stones
1978: Passing the driver's test 2008: Passing the vision test
1978: Moving to California because it's cool
2008: Moving to Arizona because it's warm
1978: Tryingto look like

Marlon

Brando and Liz Taylor
2008: Trying not to look like

Marlon

Brando and Liz Taylor.
Hunting Flies (or Hunting Files for the

dyslexci

)
A woman walked into the kitchen to find her husband stalking around with a fly swatter.
"What are you doing?" She asked.
"Hunting flies" He responded.
"Oh, killing any?" She asked.
"Yep, 3 males, 2 females," he replied.
Intrigued, she asked "How can you tell?"
He responded "3 were on a beer can, 2 were on the phone."
That's it for today my little chocolate bunnies. Have a great and safe weekend. The CAT award winner(s) and more on Monday.
Stay Tuned !