It's been a long week and Friday is here at last. That's an excellent reason to pack up your troubles in an old kit bag and head down to AREA 51 at Lakes Cafe and Pub for a few cocktails with my pals. On second thought, I'll just leave my problems at home mainly because I don't have an old kit bag. I had a brand new bag once, but that's another story.
Two heart warming stories about a couple of lucky dogs of war came to my attention today and I thought I'd relate them to you.
Although the first case involves his death, Sgt. Peter Neesly came across a stray dog and it's mother, whom he named Boris and Mama. Neesly befriended and fed the dogs and they became part of his Iraq family. Unfortunately, Neesly reportedly died in his sleep in Iraq. His brother, Patrick and his mother, Carey, arranged to have the dogs flown from Iraq to their home in Grosse Pointe, Michigan, where they now reside.
The second story is about Major Brian Dennis and a stray dog that he befriended and fed occasionally. He named the dog Nubs, because his ears had been cut off by terrorists to make the dog's hearing more acute (they alert the terrorists of approaching soldiers by barking).
A few weeks later, as conditions became more harsh, he found Nubs beaten severely, stabbed with a screwdriver and nearly freezing to death. He took care of him that night, attending to the dog's wounds and even sleeping with him because of the frigid night.
The next day, Major Dennis' company had to return to their main base 65 miles away. Two days later, while working on a humvee, Dennis looked up to see Nubs staring at him. The dog had tracked Dennis 65 miles back tothe base.
After securing a Jordanian veterinarian to prepare the paperwork, Dennis arranged to have a Jordanian family care for Nubs temporarily, while Major Dennis arranged to have Nubs flown to San Diego. A friend of Major Dennis is currently caring and training Nubs until Major Dennis returns from Iraq.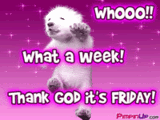 I've not seen any deserving (A)individuals worthy of a CAT award this week, nor have there been any nominations. Although I enjoy giving the CAT award weekly, it's always a breath of fresh air to have a week pass without seeing or hearing any jerks. Fear not, my little pussycats, the nominations are open until noon, Monday, and as we all know, there's always someone, somewhere just waiting to screw something up or make a social faux pas. We'll see !
The Pictures: The dogs of war - namely Boris and Mama, who were cared for by Sgt. Peter Neesly and Nubs, the down and out stray who trekked 65 miles to search out his new friend, Major Brian Dennis.
This Date In History: 1512; Amerigo Vespucci, the Italian explorer after whom North and South America are named, dies in Seville, Spain, at age 57. 1784; The Empress of China, the first merchant ship to trade with China, sets sail from New York. 1819; After long negotiations, Spain agrees to cede Florida to the United States. 1879; F.W. Woolworth opens its first five and dime store in Utica, New York. 1924; President Calvin Coolidge delivers the first presidential radio address from the White House. 1959; Driver Lee Petty, in a 1959 Oldsmobile 88, wins the inaugural Daytona 500 auto race at the new International Speedway in Daytona Beach, Florida.
Birthdays: Charles VII, king of France (1403), George Washington, First president of the United States (1732), Edna St. Vincent Millay, poet (1892), Edward Kennedy, senator (1932), Julius Irving, professional basketball player (1950).
The Hits Just Keep On Coming: You have questions? I have the answers !
Why is a divorce so expensive? Because it's worth it.
Where do Irish families go on vacation? A different bar.
What do you call two Mexicans playing basketball? Juan on Juan.
What do you call a smart blonde? A golden Retriever.
What's the fastest way to a man's heart? Through his chest with a sharp knife.
What's the difference between a Harley and a Hoover? The position of the dirt bag.
What do attorneys use for birth control? Their personalities.
What's the difference betweena new husband and a new dog? After a year, the dog is still excited to see you.
What makes men chase women they have no intention of marrying? The same reason dogs chase cars they have no intention of driving.
What does it mean when the Post Office flies its flag at half mast? They're hiring.
What did the blonde say when she found out she was pregnant? Are you sure it's mine?
What's the difference between a northern zoo and a southern zoo? A southern zoo has a description of the animal on the front of the cage along with a recipe.
How do you get an 80 year old lady to say the "F" word? Get another 80 year old lady to yell "Bingo !"
That's it for today my little Frito Banditos. Have a great and safe weekend and more on Monday.
Stay Tuned !