It's Friday and after watching the coverage of the anniversary of September 11, 2001, I'm ready to go to AREA 51 for a few cocktails with my pals. Since there's no hurricanes in the vicinity, the evening should be tranquil and I'm sure everyone's ready to party. It's been too long since my spiritual advisor, Johnny Walker Black, and I have had a deep, meaningful conversation and methinks that this will be an excellent opportunity. I wish for an excellent evening for all the AREA 51 members and their pals. Cheers !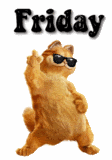 I must admit that, after hearing both John McCain and Barack Obama speak last evening, both are more intelligent than George Bush. Then again, so is the energizer bunny.
Hurricane Ike is bearing down on Galveston, Texas and the gulf coast area as well. The massive size of Ike is already flooding parts of Louisiana and the storm surge is expected to be very high. The gulf coast is already reeling from previous storms and Hurricane Ike surely is not going to help. My prayers are with the gulf coast residents.
The Cat's Ass Trophy (Cat) Award has one nominee thus far this week. Garnett has nominated boxer Roger Mayweather, who has often said that he does not believe in banks or credit cards and flaunted one million dollars in cash in front of a camera crew who were interviewing him in his home. Mayweather was subsequently robbed of over seven million dollars in jewelry hidden in his home.
Nominations for the CAT Award are open until Monday at 12:00 noon. Look under rocks and in the bushes my little sleuths. Thee's a lot more of 'em out there.
The Pictures: I don't know if I told you, but I play the guitar and keyboards (piano) and I ran across some guitar pictures I think you might enjoy. Of course, there's also some pictures that have nothing to do with music, but I like 'em, so without further adieu.....
This Date In History: 1935; American millionaire Howard Hughes sets the world's land plane record of 567 kph (352 mph) in an airplane of his own design. 1940; Four French teenagers, following their dog into an underground cavern near Kascaux, France, discover 17,000 year old cave paintings made by Stone Age artists.
1953; Future U.S. president John F. Kennedy marries Jacqueline Lee Bouvier in Newport, Rhode Island. 1974; Ethiopian emperor Haile Selassie I, who ruled the country since 1930, is deposed by the Ethiopian military.
Birthdays: Herbert Henry Asquith, British prime minister (1852),Maurice Chevalier, singer and actor (1888), Irene Joliot-Curie, physicist (1897), Jesse Owens, track and field athlete 1913 George Jones, country singer (1931).
The Hits Just Keep On Coming:
A precious little girl walks into a pet shop and asks with the sweetest lisp, "Excuthe me mithter, do you keep widdle wabbitts?"
As the shopkeeper's heart melts, he gets down on his knees so that he's at her level and asks, "Do you want a widdle white wabbitt or a widdle brown wabbitt?"She blushes, puts her hands on her knees, leans forward and say, "I don't think my pet python weally gives a thit."
Farmer Johnson goes to the vet and says, "My horse is constipated." The vet says, "Take one of these pills, put it in a long tube, stick the other end in the horse's ass, and blow the pill up there."
Farmer Johnson comes back the next day, and he looks very sick. The vet says, "What happened?" Farmer Johnson says, "The horse blew first."
A circus owner walked into a pet shop to see everyone crowded around a table watching a little show. On the table was an upside down pot and a chicken tap dancing on it. The circus owner was so impressed that he offered to buy the chicken from the owner. After some negotiating, they settled for $2,000 for the chicken and the pot.
Three days later, the circus owner came back into the pet shop and said angrily, "The chicken is a rip-off. I put him on the pot in front of an audience and he didn't dance a single step."
The pet shop owner said, "Did you remember to light the candle underneath the pot?"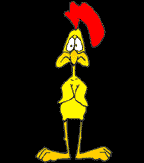 That's it for today my little puddin' heads. Have a great and safe weekend and more on Monday.
Stay Tuned !