Today is the day of the week affectionately referred to as Hump Day. Although it describes the acme or apex of the week, it also has more non-descript definitions that would be better left to one's imagination. In either case, it breaks up the week quite well for me and allows me to wander into the night to AREA 51 in search of an evening of leisure and in the company of friends. Then again, being an equal opportunity reveler, I would feel equally as comfortable in the arms of a young lady.
Speaking of young ladies, my thanks to Rose, author of Roses Are Read for today's graphic. You can read Rose's journal by clicking the link on my sidebar.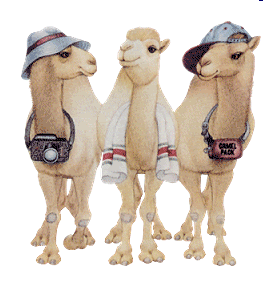 Joe Biden ran off at the mouth today and I really tried to listen to what he had to say, knowing full well that the only reason that he's even on this ticket is for self promotion and the hope of becoming president. Nevertheless, I attempted to listen to what he had to say. I finally gave up after he repeated the words "ladies and gentlemen" for about the fortieth time before making his point.
You would think that as long winded Biden is and as much as he likes to hear himself speak, he'd realize how he sounded. Methinks a Dale Carnegie speaking course should beon his agenda. Between Biden's "ladies and gentleman", Obama's me, my, I, repertoire and McCain's "my friends," I'm about ready to stick a sharp pencil in my ear.
The good thing is that in a few weeks, either Obama's going to give the country away to support the I need, I want, give me, help me crowd or McCain's gonna blow up the country. Either way, I'll know how to dress.
In shocking news yesterday, former American Idol runner-up Clay Aiken, announced that he is gay. You've got to be kidding. That Macho guy is a backdoor guy? I wonder how he kept it a secret? Damn, Bruce, I'd have never guessed it. Then again, her did play catcher for his third grade softball team.
The Pictures: The pictures today are from National Geographic magazine and are taken from the "photo of the day" archives from July, August and September 2008. There's no rhyme or reason to my selections. I just thought they were purty.
This Date In History: 1869; In the financial crisis known as Black Friday, American speculators James Fisk and Jay Gould attempt to corner the U.S. market in gold, causing the stock and commodity exchanges to fluctuate wildly. 1957; Playing their last game at Brooklyn's Ebbets field before moving to Los Angeles, the Brooklyn Dodgers defeat the Pittsburgh Pirates, 2-0.
1969; The trial of the Chicago Eight (later named the Chicago Seven), anti-Vietnam War activists charged with inciting a riot at the 1968 Democratic National Convention in Chicago, Illinois, begins. 1988; American athlete Jackie Joyner-Kersee wins the gold medal in the heptathalon at the Olympic Games in Seoul, Korea, setting a new world record of 7,291 points in the event.
1991; Theodore Seuss Geisel, writer of children's books under the pseudonym Dr. Seuss, dies in la Jolla, California, at the age of 87.
Birthdays: JohnMarshall, Supreme Court justice (1755), F. Scott Fitzgerald, American writer (1896), Jim Henson, puppeteer (1936), Eavan Boland, poet (1944), Joe Green, football player (1946).
The Hits Just Keep On Coming:
Two robins were sitting in a tree. The first robin says, "I'm hungry. Let's fly down and find some lunch. They flew down to the ground and found a nice plot of newly plowed ground that was full of worms. They ate and ate until they could eat no more.
The first robin says, " I'm so full that I don't think I can fly back up into the tree." The second robin replied, "Let's just lay here and bask in the warm sun."
So they plopped down, basking in the sun. No sooner than they had fallen asleep, a fat tomcat came and gobbled them up. As the cat sat washing his face, he thought, "I just love Baskin Robbins."
A man and his friend meet at the clubhouse for a game of golf. The man has a little dog with him and on the first green, when the man sinks a twenty foot putt, the little dog starts to yip and stands up on its hind legs.
The friend is quite amazed at this clever trick and says, "That dog is really talented. What doeshe do when you miss a putt?" The man says, "Somersaults."
His friend says, "somersaults? That's incredible. How many does he do?"The man says, "That depends on how hard I kick him in the ass."
That's it for today my little lily pads. More tomorrow.
Stay Tuned !